skip to main content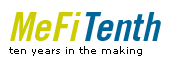 Portland, OR — Organizer: mathowie
Mini-Pre-10th Anniversary Party Train Meetup
June 11, 2009 9:49 PM Subscribe
Any interest in taking the Amtrak Cascades, carpooling and/or shared accommodations in Portland?
I was hoping to keep costs down and either carpooling down to Portland or taking the train. Currently taking the amtrak Cascade down on Saturday morning is $28 and the Starlight Coast on Sunday afternoon back to Seattle is $28. Might be an adventure to take the train down with a group.

I'm also interested in sharing a hotel room or crashing on a couch in Portland for Saturday night as I am not going to be able to stay up until the wee hours of the morning partying.

Anyone else interested? Suggestions?
posted by silkygreenbelly to Portland, OR at 9:49 PM (39 comments total)