skip to main content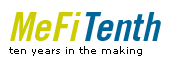 Portland, OR — Organizer: mathowie
Food and drink at the East Burn party
July 18, 2009 9:00 AM Subscribe
There will, of course, be food and drink tonight. Here's the skinny:
We've got a nice catered spread planned at East Burn. Food will be coming out in two rounds, one at about 7 and a second round around 9. The menu includes:

Crostini Trio (3 choices)
-Sausage, Sauerkraut, spicy mustard
-Gorgonzola, honey, fresh fruit
-Chevre, strawberries, toasted hazelnuts

Mini quiches (3 choices)
-Roasted red pepper, spinach, fontina
-Wild mushroom, ham
-Bacon, broccoli, cheddar

- Baked Brie with Marionberry compote and puffed pastry
- Tequila marinated shrimp with mango chutney
- Marinated beef kabobs
- Mixed green salad with choice of dressings on side
- Red wine, white wine, and bubbles

We'll also be getting beer by the pitcher to save folks from having to stand in line out at the bar as much as possible.

There will also be donuts.
posted by cortex to Portland, OR at 9:00 AM (12 comments total)