skip to main content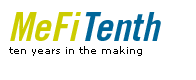 San Francisco, CA — Organizer: blithecatpie
Reminder
July 17, 2009 12:16 PM Subscribe
Just a reminder: picnic will be at tables 3 & 4 in Lindley Meadow, Golden Gate Park
And the bonfire is still at Ocean Beach, though we don't know which pit yet because we can't reserve them.

If anyone needs to contact me, you can do so at: (408) 624-6876.

See you all there!
posted by blithecatpie to San Francisco, CA at 12:16 PM (32 comments total)