skip to main content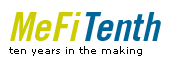 Brisbane, Australia — Organizer: dg
BRISBANE QLD Planning Thread
May 5, 2009 8:49 PM Subscribe
We need to pick a date and time between July 17 and July 19 and a location. My thoughts are that somewhere in the city, easily accessible by public transport would be a good goal. 17 July is Friday night, so that also sounds like a plan to me.
What, you want me to write more?

OK then, MeMail is good for contacting me, or my e-mail address is in my profile. I can also be contacted on 0411-045 136, but don't be surprised if I don't answer your call (because I won't recognise the number), so SMS me instead and I'll call you back. I agree to put aside my aversion to speaking to people on the phone for the time immediately preceding and during the meetup. How's that?
posted by dg to Brisbane, Australia at 8:49 PM (111 comments total)